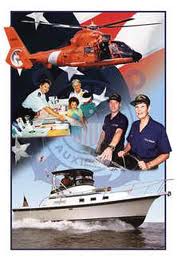 A marine or Program Visitor (PV) is part of the Auxiliary's Recreational Boating Safety (RBS) Directorate Visitation Program that develops "partnerships" with local commercial organizations that can actively support our RBS programs and messages. PV personnel visit local establishments that offer opportunities to present boating safety material (exhibits of pamphlets, brochures, etc.), promote safe boating, or directly assist in our Flotilla's boating safety activities.
Although Vessel Examiners (VE) and Program Visitors (PV) deal with a different audience, both qualifications are responsible to deliver the RBS message to the greater recreational boating community. The message includes:
The value and maintenance of recreational boat safety equipment (VSC);
Safe boating techniques and the right behaviors (VSC);
Promotion of additional boating safety education - knowledge is the key to a safer boating experience;
Marine Domain Awareness and America's WaterWay Watch program;
Use of Personal Flotation Device; Boat Smart;
Dangers of CO poisoning;
Cold water safety issues such as cold water immersion;
On the water environmental issues;
Alcohol and its impact on the recreational boater.
For more information about visitations, please visit the national V-Department web site.
This page was last modified on Monday, 26-Feb-2018 19:34:48 EST.